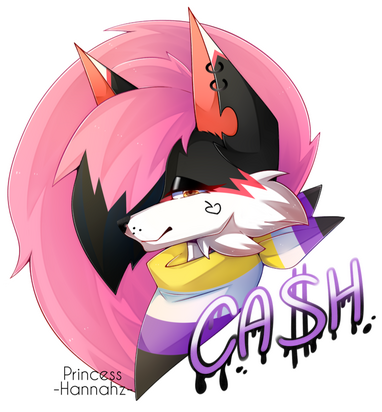 PrincessHannahz
---
Digital Artist
---
Commission Info & Tos
Before you commission me, please take a moment to look at my Terms of Service and Prices!I shall send you a Google Forms to fill out.
---
Terms of Service
---
Here is the information on my Commissions and Terms of Service! By commissioning me, I will assume you've read through this and agreed to everything. ♡
---
My Rules☆
- You may not tamper or edit my art in any way, even if you paid for it. Cropping for a profile picture or icon is fine.- If you would like to edit something, come to me and we'll talk about it. I can easily recolour or slightly edit something, and usually free of charge. If some time has passed, I will most likely deny.- Always credit me when using my art anywhere. I don't mind my art being used publicly, even commercially (only if you paid for it), just as long as I'm credited.- If you use my art (that you commissioned) commercially for things such as YouTube or Twitch, my art cannot be the main focus of the channel. Story Time videos (such as Psych2go) with illustrations is an example of what isn't allowed. - Please message me about it.- Do not purposely try to crop or edit out my signature when using it.
- I have the right to refuse any commission requests.- I use a Waiting List system on Trello. When you are guaranteed a slot, I shall message you once it's your turn. No payment is made until it is your turn and I can start your commission. You may cancel any time between waiting!- If you do cancel and want to commission again in the future, you must wait until you can grab another slot when they're open. You can't jump back up in the queue.
Copyright Notices☆
When you commission something, such as emotes, you are now responsible of what you do with it. You may use it publicly or not, and you can let me know whether you want me to post it watermarked or not. If someone steals things such as emotes and you're unhappy with that, it becomes your responsibility to tackle it, but I will help.- I will upload my artwork to my social medias to protect my own work. Deviant Art does Copyright anything I upload, and it guarantees an original source to prove I created it.
Watermarking☆
We have the right to protect our things. I do have a watermarking system for those who want me to upload their commissions but prevent theft. I currently have a "Commissioned by [name]" watermark that I can put over the top of commissions when I upload them. It's your choice!Note: I will always watermark emotes to prevent emote theft, unless you say otherwise.
I also watermark pre-payment sketches to prevent theft.
Once you've read everything, you are free to contact me on Discord/Twitter!
©2022 PrincessHannahz - All Rights Reserved
Prices & Services
---
---
Note!
Note: Emote Commissions are currently unavailable- If your commission includes one of my OCs, the commission will have a 15% discount.- I'm not keen on drawing backgrounds so prices aren't set.- Extra things such as complex clothes and props may increase the price.- Pokémon that stand on two legs such as Zeraora are classed as Anthro.
---
Feral (on all fours)☆
Halfbody:
Flat Colour: £20 (Extra Character +£15)
Shaded: £25 (Extra Character +£20)Fullbody:
Flat Colour: £25 (Extra Character +£20)
Shaded: £35 (Extra Character +£30)Max Characters: 2
---
Furry/Anthro☆
Halfbody:
Flat: £25 (Extra Character +£20)
Shaded: £35 (Extra Character +£30)Fullbody:
Flat: £35 (Extra Character +£30)
Shaded: £45 (Extra Character +£40)Max Characters: 2
---
Misc☆
Icons/Headshots:
Flat: £15
Shaded: £20Emotes:
Per Emote: £10
(5 Emotes max per order)
---
Ref Sheets☆
Mini Ref Sheet: £40 (Front + Info)
Basic: £50 (Front + Back)
Advanced: £60 (Front + Back + Side)
Custom Design: £70 (Front + Back)
+£10 for Side
- Refsheets come in Flat only.
- Prices are negotiable and I will adjust it depending on how complex it is and what you want.You Will Get:
- Colour pallet, name and some info come free of charge.
- All the art separately as well! The Front, Back and Side if you paid for it.Note: You need visual references of your character. If you are getting a Custom Design, you agree for me to take artistic liberties if you're sending me ideas and concepts of what you want the character to look like.
Also, I cannot read your mind. I might slightly adjust an idea to fit the design/my art style.
---
If you're unsure what your commission falls under, feel free to DM me and I can tell you the price!
©2022 PrincessHannahz - All Rights Reserved
Payment Information☆
---
- Payment will be through PayPal which I shall message you privately once everything has been decided! I only accept GBP(£). PayPal will let you choose the currency to pay in and translate it for you!- Payment must be upfront.- Once you've paid upfront, I will be more than happy to send you screenshots of WIPs and even stream to you to make sure you're happy with how it's going.- If I feel as if I cannot do the commission for whatever reason, you will receive a full refund. If the commission comes to a halt and isn't fully completed, I will be happy to deduct and refund the required amount.- If you are unsatisfied with the result and would like money back, I may only refund partly or not at all. My reasoning is because if you were unsatisfied with it while I was sending screenshots and streaming, you should have said something then, otherwise it's just a waste of my time and yours and if I did a full refund, it would basically be free art.- For legal reasons, I may screenshot your messages and mine of confirmation. This is basically evidence in case anyone turns round and says the art was never received or it's not what was asked for.- All drawings (if you didn't pay for a background) will come with a basic one colour/transparent background. If you do want a background and want a transparent version also, I will gladly send both.- I will send the completed drawing via a zipped compressed file uploaded to Discord which I will then link you to download! (You do not need Discord to download the file)
---
©2022 PrincessHannahz - All Rights Reserved
Patreon☆
---
I have a Patreon now!People can financially support me and gain perks for doing so. Info will be on my Patreon page!- My Patreon is 18+ only. I post my spicy/suggestive artwork on there, and host polls for people to vote on what I draw next!- Patreon will charge you on the 1st of every month. If you become a Patreon, please message me so I can give you the Discord role and also add you to my Twitch pannel!- The Discord server you can join is not Patreon Only server. It is still a small server for friends, not just centred around my art but everyone's art!
---
©2022 PrincessHannahz - All Rights Reserved